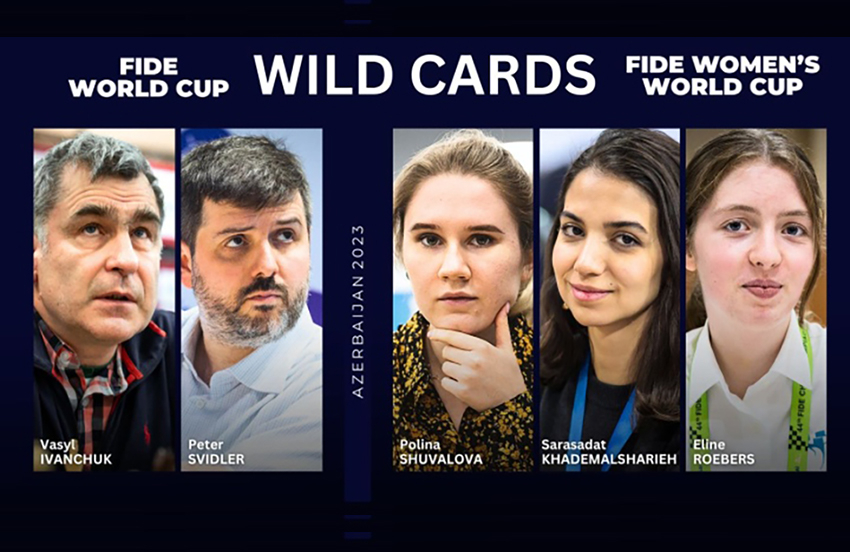 04 Jul 2023
FIDE has approved the final list of Wild Cards for the 2023 World Cup. In both the Open and the Women's tournament, the final list features a mix of seasoned players and promising young talents
Apart from Hikaru Nakamura (No. 2 on the July 2023 Rating list, who recently scored a brilliant victory in Stavanger) and Arjun Erigaisi (No. 2 on the world junior list, the winner of the 2023 Sharjah Masters held in May), two more distinguished chess names received the Wild Card for the 2023 World Cup - Vasyl Ivanchuk and Peter Svidler.
Renowned for their remarkable achievements, both players have left an indelible mark on the game as their results include playing the World Championship final and winning the World Cup and World Rapid Championship. Considered to be exceptionally strong world Grandmasters, both have had great results recently: Peter Svidler won the TePe Sigeman tournament in Malmo (Sweden) in May 2023, while Vasyl Ivanchuk picked up 17 rating points in June and tied for first place at the just concluded GM tournament in Bydgoszcz (Poland).
In the Women's World Cup, three Wild cards were given to the top three non-qualified players - Zhu Jiner (2498), Polina Shuvalova (2496) and Sarasadat Khademalsharieh (2488). Many in the chess world will be focused on Sarasadat who had not played classical chess for almost a year save a small tournament in May 2023.
The final Wild Card was granted to the very talented 17-year-old Eline Roebers, who increased her rating by 62 points in the past three months and crossed a 2400 ELO mark (2419). The event in Baku will be her first test at such a high level.
With the Wild Cards announced and the full list of participants now known, the stage is set for a battle where the world's finest chess players will gather in Baku (Azerbaijan) to decide the winner of the World Cup.
List of players for the Open Section (highlighted the 50 players BYE in Round 1)
Pairings for Open Section Round 1
List of players for the Women Section (highlighed the 25 players BYE in Round 1)
Pairings for Women Section Round 1
Official website: worldcup2023.fide.com/